Many people often debate the better option between steam cleaning vs.shampooing carpets. Having your carpet clean on a regular basis is very important if you want to maintain a good looking floor covering for a long period of time.
Carpets are mainly magnets for allergens like mold spores, dander, and other types of unpleasant sticky stuff which results in coughing and sneezing. In order to prevent these, you need to clean your carpet regularly.
Let's talk about the most popular carpet cleaning methods; steam cleaning and shampooing and check out which one is better.
Steam Cleaning Vs.Shampooing Carpets, Which is Better?
Steam Cleaning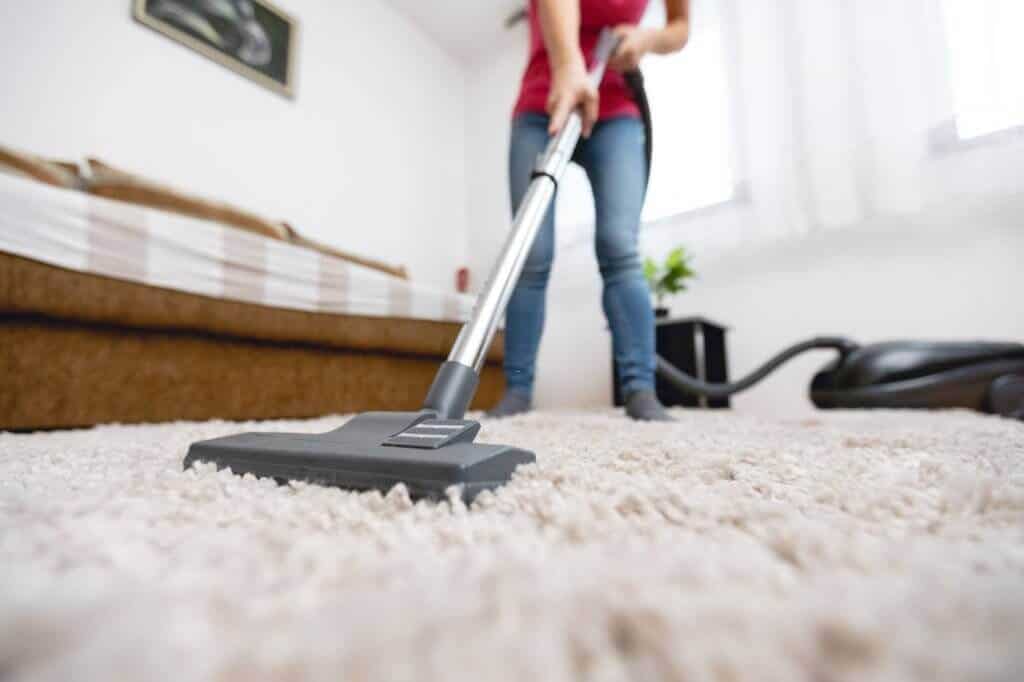 Steam cleaning is also described as hot water extraction method by most companies. The steam is only an effect, it does not relate to the cleaning process.
In other words. The steam doesn't do the stain removal, the hot water does instead.
How Is Steam Cleaning Done?
As the name implies, this process uses hot water mixed with special carpet cleaning detergents.
This mixture is sprayed with high pressure into the carpet by the powerful hose of a pump, penetrating its fibers thoroughly. Then, the solution is drawn out, taking out all the dirt, built-up residue, and stains.
Owing to the fact that water is used, the carpet will need a couple of hours to get dry again.
Pros of Steam Cleaning
Steam cleaning ensures an absolute deep cleaning of the carpet. Steam cleaning stretches to areas that other carpet cleaning processes cannot reach.
Steam cleaning is the most effective way to remove stains.
Steam cleaning restores the original look of a dirty carpet.
No residue will be left behind after each application; the percentage of water is far more than that of the detergent.
Steam cleaning is safe health-wise for asthmatic patients and people suffering from allergies because water, a neutral and harmless substance, is the main ingredient used to clean the carpet.
Cons of Steam Cleaning
Steam cleaning is not required for natural fibers or other organic materials.
The carpet takes a longer time to dry (up to 8 hours).
The longer the drying time, the higher the tendency for fungi and bacteria to grow on the carpet.
Shampooing Of Carpet
Shampooing of carpet has been the norm before the invention of steam cleaning.
Well made shampoos create an amazing thick foam that has the capability to break down dirt particles, which have built up over time in between the carpet's fibers.
Carpet shampoos also have lubricating ingredients that protect the carpet's surface from the strong brushes of a rotary shampoo machine. The whole process explained here is called rotary shampoo carpet cleaning.
Pros Of Shampooing Carpet
Shampooing your carpet is budget-friendly. It does not cost much.
Shampooing your carpet is very easy and takes little time.
Cons Of Shampooing Carpet
Delicate rugs can be damaged by rotary shampoo carpet cleaning.
Some shampoos brighten your carpet distastefully.
Shampooing your carpet causes irredeemable yellowing of the carpet material.
This method usually leaves a sticky residue.
Shampooing cleans only the surface level of a carpet; it does not deep clean.
Dirt will build up faster because of the residue on the carpet.
Is There A Difference In The Drying Time Of Both Methods?
Steam cleaning and shampooing of carpet are cleaning methods that both use water. This means that the time a carpet will take to dry after using any of these methods can range from 2 to 24 hours.
To speed up the process of drying carpet, you have to open your windows to ensure cross ventilation in the room.
Which Carpet Cleaning Method Is Better?
Steam cleaning is currently the most excellent and efficacious carpet cleaning method. It is more effective than shampooing carpet because your carpet gets cleaned deep down when steam cleaning.
It can be done only by consulting a professional who uses special equipment and products to get rid of all the soil and dirt from the carpet's fibers.
Steam cleaning method helps to get rid of any kind of old or stubborn stain from your carpet. It also controls allergy-triggers well than the shampooing carpet; it holds allergens under high pressure.
Steam cleaning carpet ensures that almost 95% of the moisture is extracted along with the dirt. Therefore, this method's drying time is lesser than that of shampooing carpet.
Read: Best commercial steam cleaner
How Often Should I Clean My Carpet?
Cleaning your carpet depends on different factors;
The entire quality of your carpet
The amount of traffic on the carpet
The presence of pets in your home
Normally, cleaning your carpet should be done every 12 to 18 months, in order to maintain their clean and good state. Carpets that are in rooms like the living room will need regular cleaning than the carpet in your bedroom.
Always take care of your carpets before they get too dirty. Adhere to this instruction especially if you are using shampoo, remember it does not have deep cleaning abilities.
If you leave dirt on your carpet for too long, before you clean your carpet, any deep-rooted dirt build-up can stay in between the carpet fibers, even when you have shampooed the carpet.
Conclusion
When it comes to steam cleaning vs.shampooing carpets, you now know steam cleaning is a better option. Regardless of the cleaning method you intend to use, always remember to do a little spot test on an inconspicuous part of your carpet.
Depending on the size, age, and nature of stains, some of them might be impossible to remove.
If you want your rug thoroughly cleaned and have all allergens killed, go for the steam cleaning method. However, if you need a cheap and fast way to brighten up your carpet, shampooing your carpet is the way to go.
Which method do you prefer between steam cleaning and shampooing? Let us the method you prefer the most in the comment section below.