Just before steam cleaners took over the world, we were comfortable with the traditional mop and bucket system. Now, how effective is steam cleaning?
The steam cleaner is here to stay with top-notch features to make home cleaning much more efficient. Let's take an in-depth look into the question.
How effective is steam cleaning? Great question!
For a well-defined effect of steam cleaning, I need to share insights on how a steam cleaner works. As the name implies, "steam cleaner" turns ordinary water into steam. It is achieved with a lot of heat and can go to as hot as 225 degrees F, this is enough to loosen any stubborn dirt as well as kill germs and bacteria.
Effective Uses Of A Steam Cleaner
A steam cleaner is not limited to cleaning floors, it also has a lot of effective uses which makes steam cleaners a must-have for every household.
Steam Ironing
Some models of steam cleaners come with an additional attachment, example of this steam cleaner is a shark steam cleaner. These attachments include an ironing attachment which helps in steam ironing as well as drying laundry faster. If you haven't used one before, find out how to properly use a steam iron.
BBQ Grill Racks
Cleaning a BBQ can be a very hectic job. With a steam cleaner, the case is different as it blasts away that stubborn grease leaving your BBQ as good as new.
Mattress Cleaner
Fed up of dust mites? This is where your steam cleaner comes in, the hot vapor from the cleaner is enough to kill dust mites. Simply use the upholstery tool with the cloth attached to it.
Mirrors
You might be a pro at steam-cleaning your window but your steam cleaner is not limited to just cleaning your windows. Your mirror isn't left out. A lot of steam cleaners come with cloth kits which isn't limited to cleaning your windows but your mirrors with leaving any sign of streak.
Grouting
A shark steam cleaner as well as a few other steam cleaners come with a grout cleaner attachment for cleaning dull grout and brightening it up.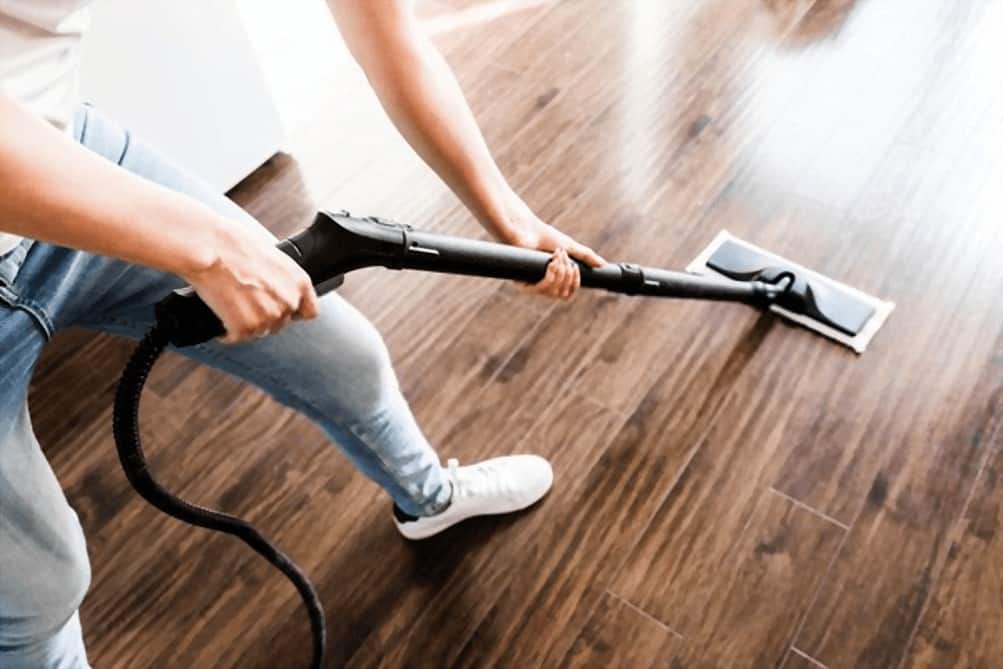 Advantage Of Steam Cleaning
Chemical-Free Cleaning
A lot of people do ask if they can put a disinfectant in their steam cleaner. Since the introduction of steam cleaners, home cleaning has been more environmentally friendly coupled with an easy and efficient sanitization. The only needed element here is water and heat, giving the steam cleaner a lot of advantages in a couple of ways. It helps keep the environment chemical free by reducing the amount of chemical that goes down the drain.
Spend Less
A steam mop tackles every cleaning around your home. As an eco-friendly cleaner, you wouldn't need to spend on any cleaning supplies or chemicals. You don't even need a glove to protect your hands, the steam mop makes it much easier. A high temperature being the major ingredient of the steam is enough to sanitize your floor, loosen dirt and even kill germs, leaving your home chemical-free clean.
Easier Maintenance
You don't need to buy additional supplies for the continuous use of your steam cleaner. The pads are re-usable, you just need to wash it after every use, unlike other cleaners which require pads replacement for every use. An example of all steam mop with additional supplies is the shark steam mop. do make sure to find out how much a shark steam mop is before making a final decision.
Quick To Dry
The steam produced from steam cleaners has a very high temperature and less than a 5% proportion of water. This implies that anything you steam clean dries very quickly compared to a traditional mop and bucket. Regardless of the surface, a steam-cleaned floor, mirror or mattress tends to dry a lot faster than the old-school mop and bucket system.
What You Shouldn't Clean
While steam cleaning cleans a tile floor and a few other floors perfectly, some certain floors and surfaces can't take the heat. Cleaning those surfaces with a steam vapor can ruin the surface. Find out if you can use a steam mop for your tile floor. Here are surfaces you shouldn't use a steam vapor on.
Porous surfaces such as marble
Water-based paint or anything else that can be damaged when exposed to heat.
Carpets, Silk or thin plastics
Large industrial space as well as food plants
We've written a complete guide on the best steam mop for a perfect shiny floor. Check it out and make your choice based on the feature that suits your need.
Conclusion
Steam cleaners are getting popular due to its performance. Being an environmental-friendly cleaner, there's no bad effect on cleaning. With the effective uses of a steam cleaner coupled with its advantages, you should know a steam cleaner isn't something we can do without in our daily activities. I would love to know your opinion and your experience if you have used a steam cleaner, so I will push the question over to you. How effective is steam cleaning? Let me know your answer in the comment below.