Bamboo flooring scratches are inevitable occurrences when you have bamboo flooring at home. Just like many other kinds of flooring, bamboo floors are likely to scratch. Although, bamboo flooring is designed to be durable, it is not completely impenetrable by light scratches or even gouges that can reach beyond the coating of the bamboo floor's surface.
Some scratches on bamboo floors might have been on the floor since the time of the floor's installation while other scratches resulted from normal daily usage.
The procedure of preventing and dealing with scratches on bamboo floors, as well as products used to fix bamboo flooring scratches are similar to that of hardwood flooring.
While scratches is on of the common flooring problem bamboo flooring have, the scratches can be fixed without the assistance of an expert; you can use wood sealers or fillers. Deeper scratches can require a filler putty or outright replacement of boards. Keep yourself abreast with the manufacturer's instructions and recommendations on your bamboo floor.
How To Fix White Scratches On Bamboo Flooring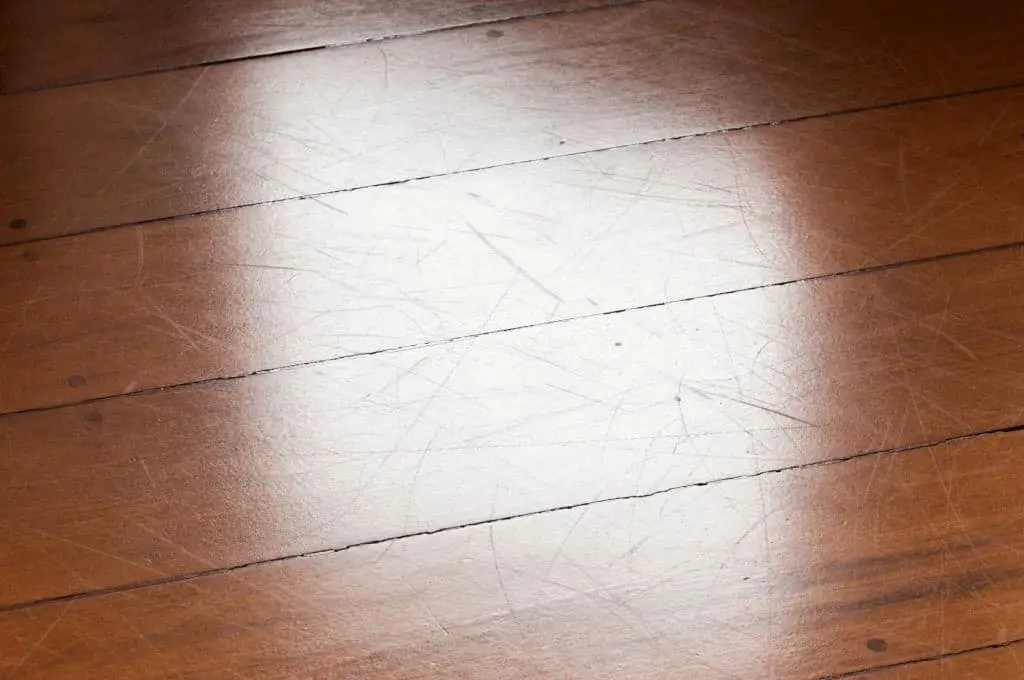 White scratches have the least degree of scratching on bamboo flooring, hence, easy to fix. A white scratch barely ruins the protective floor sealant of the bamboo floor because the scratch is shallow and you hardly feel it. Here are steps on how to fix white scratches on bamboo floors:
Move over white scratches with a damp white cloth and a drop of your regular bamboo floor cleaner.
Rinse the white cloth, wring it out and clean the scratch once again, to get rid of any residue of the floor cleaner.
Dry out the area with another white cloth.
Rub the area with a floor-buffing pad or a soft white cloth. The scratches should be out by now.
Read: Cleaning Bamboo Floors with vinegar
How To Fix Scratches That Penetrate Bamboo Floor Finish
Any putty-fill made for wood scratch's repair can also work on bamboo floors. These sticks are obtainable in numerous typical wood colors. Just go to a home-improvement store and pick a color that matches well with your bamboo floor.
If you have an extra piece that remained after installation, you can take it with you to the store so that you can easily find a match. If you cannot find the exact match, pick a shade that is slightly darker than your bamboo floor.
A slightly darker shade will make the repair inconspicuous, as opposed to a shade that is too light. These are steps on how to fix scratches that penetrate bamboo floor finish:
Clean the spot with a damp white cloth, applying your regular wood floor cleaner and a little water. Rinse the cloth, wring it out and then clean the spot once again to get rid of any residue of the bamboo floor cleaner.
Use a white and lint-free cloth to wipe the spot dry. Ensure that the spot is dried fully before you apply the filler.
Move the fill stick back and forth on the scratch. Move across the scratch as you go down its length. This will make the putty material to fill up the scratch.
Rub the edge of a leftover thin cardboard gift card over the filled area to remove excess filler.
Rub the surface of the filled area with the face of the cardboard gift card to level up the area being repaired.
Carefully buff the floor around and on the repair area using a lint-free white cloth. This will also remove any filler residue.
Gather and dispose of any small waxy bits removed from the repair.
Read: How to tackle slippery wood floors
How To Fix Larger Chips, Gouges And Holes On Bamboo Flooring
When your bamboo floor has a gouge or hole, it can be fixed by filling up the hole with water-based putty that does not shrink; some putty shrink and crack and also pop out of the hole as time goes by.
Putty products greatly vary, so you have to read instructions and directions carefully. Many people suggest that deep holes should be filled in layers, allowing enough time for drying between applications.
Search for a product that is available in a color that is the same as that of your bamboo floor or a color that can be tinted to match your bamboo floor. Here are steps to take in fixing larger chips, gouges, and holes in bamboo flooring:
Use a lint-free cloth to wipe debris and dust away from the damaged area.
If you feel any crooked area around the hole or the cloth snags, sand the area with fine-grit sandpaper, moving in the direction of the grain pattern. Remove the dust using a vacuum cleaner (with a hard floor setting), a tack cloth or a damp cloth.
Following directions on the label, mix the filler product and apply it in the hole using a plastic putty knife. Also, follow the manufacturer's recommendation as regards applying the filler in thin layers or not. Scrape away excess filler from the spot, using the putty knife.
Let the filler dry within the time specified by the manufacturer. Some fillers can be speed dried using a hairdryer that is set to 'medium' or 'low'.
Apply additional layers of filler if need be and allow enough time for drying after each application. When the hole is filled up and the putty is dry, carefully sand the area, using the fine-grit sandpaper. Don't forget to follow the grain pattern of the bamboo floor. Make sure you don't scratch the bamboo floor, sand only the filler.
Conclusion
Bamboo flooring scratches can be very distasteful and annoying floor problem; you can fix them as explained above or prevent them. The most effective way to prevent scratches on your bamboo floor is by sweeping the floor frequently.
Place a doormat at the entrance of your room, so people entering your home can wipe their feet on the doormat before coming in. You can also use felt furniture pads under furniture that can shift or slide when in use.
Over to you, tell us in the comments section below how you have managed bamboo flooring scratches in your home. Don't forget to share this post with your friends to get them enlightened on how to fix bamboo flooring scratches.